We are experts in Interior Painting!
Interior painting projects in homes becomes transcendental for us since different views and dreams of the members of each family are embodied in them. Therefore, advice regarding tones and sheens is an important part of our role in these cases.
It is that the home is definitely our refuge, and its internal aesthetic is necessary to keep it suitable and on occasions is necessary to make changes of tones since each space, be it the bedrooms, bathrooms, hallways, foyer rooms, the living room, the kitchen, the laundry room, must have its different style and illumination.
When we undertake this type of project, we are very careful to protect all your floors, furniture, fixtures and belongings. The preparation process of all drywall surfaces is the key, that includes the process of careful cleaning and attention to defects, holes and cracked areas, which are properly repaired with patching compound and sanding. Then, it is indispensable the application of primer, leaving all the walls and ceilings areas of your home uniform enough to proceed with the coats of paint and guarantee a perfect adhesion.
We are qualified to recommend the newest coatings and high-quality paint. We are known for taking care of the details and making the best paint cuts, always guaranteeing the best finish and customer satisfaction.
At the same time, we take care of your wood interior doors and casing doors, baseboards, crown molding, window casing, window sills, decorative wood panels and wood or plaster moldings in general. These areas also need an exhaustive preparation which also includes filling of holes and application of caulking at the transition areas. Ask us how to combine the colors of your walls or ceilings, with the color of your doors and moldings, playing with tones and all the available sheen as: hi-gloss, semi-gloss, satin, eggshell, matte or flat.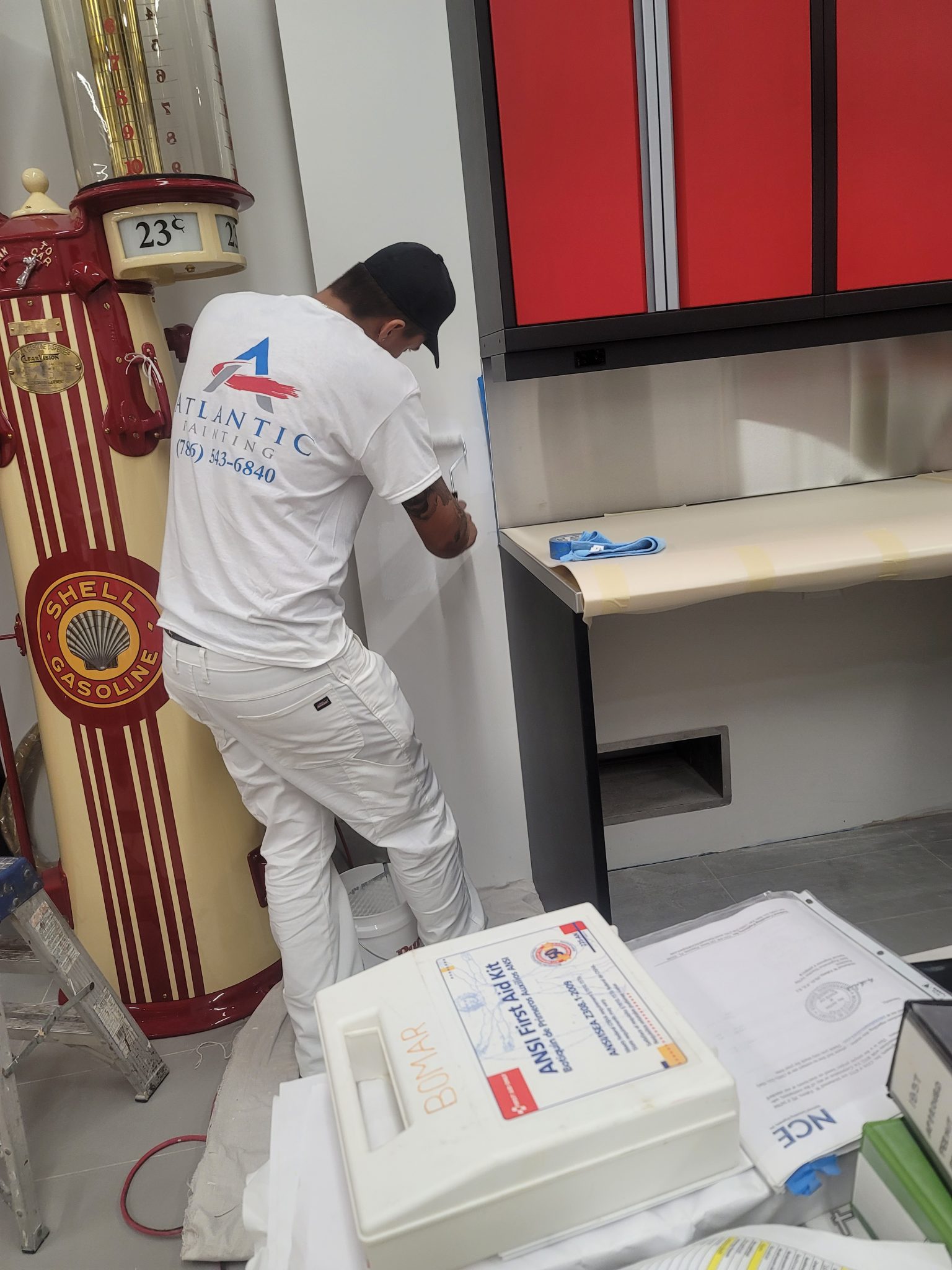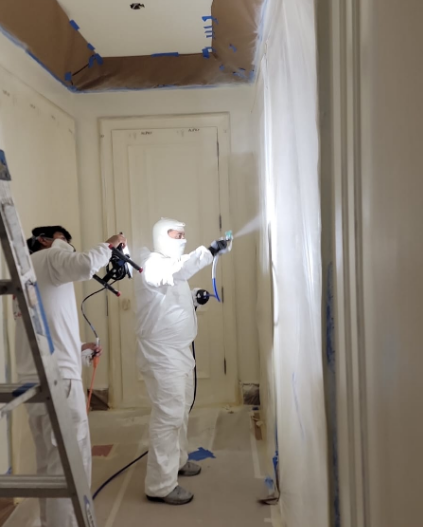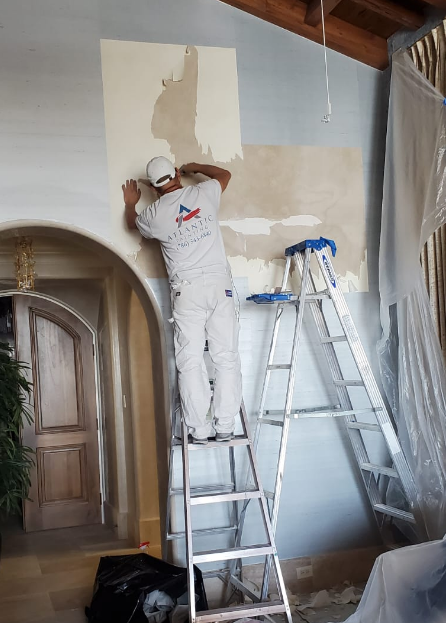 Tired of seeing the same wallpaper? Or is the wallpaper damaged in your home? Wallpaper is a decorative element and therefore over time you may get bored and want to change your space. Our team has the ability to remove it with the best-applied technique so as not to damage your wall.
Once the wallpaper has been removed, we take care of sanding your wall or ceiling, preparing the drywall surface with the application of the proper primer therefore your area is going to be ready to be painted or if you prefer and decide to place another wallpaper.
At Atlantic Painting, we understand that wallpaper removal can be a time-consuming, messy, and frustrating process. That's why we believe we are the best choice for wallpaper removal services in South Florida. Our team of skilled professionals has the expertise and experience to provide efficient and effective wallpaper removal services that meet your specific needs and requirements.
Is an area of your ceiling of your favorite room getting damaged due water leaking? The damaged drywall areas in a house o apartment are very common. No worries, Atlantic painting can help you to solve the situation that involves the installation of a new pieces of drywall to any area of walls or ceilings in your place . If the damages are caused by water intrusion, it is necessary to take off the damaged drywall area, then a proper licensed company solve the problem of water intrusion and do the pertinent measures with the right equipment to assure a water free intern space. After that, we proceed to do the cuts and install the new drywall pieces as needed. Then to apply a skim coat, primer, and final coats of paint, making sure of using the matching color with the tone present in the area.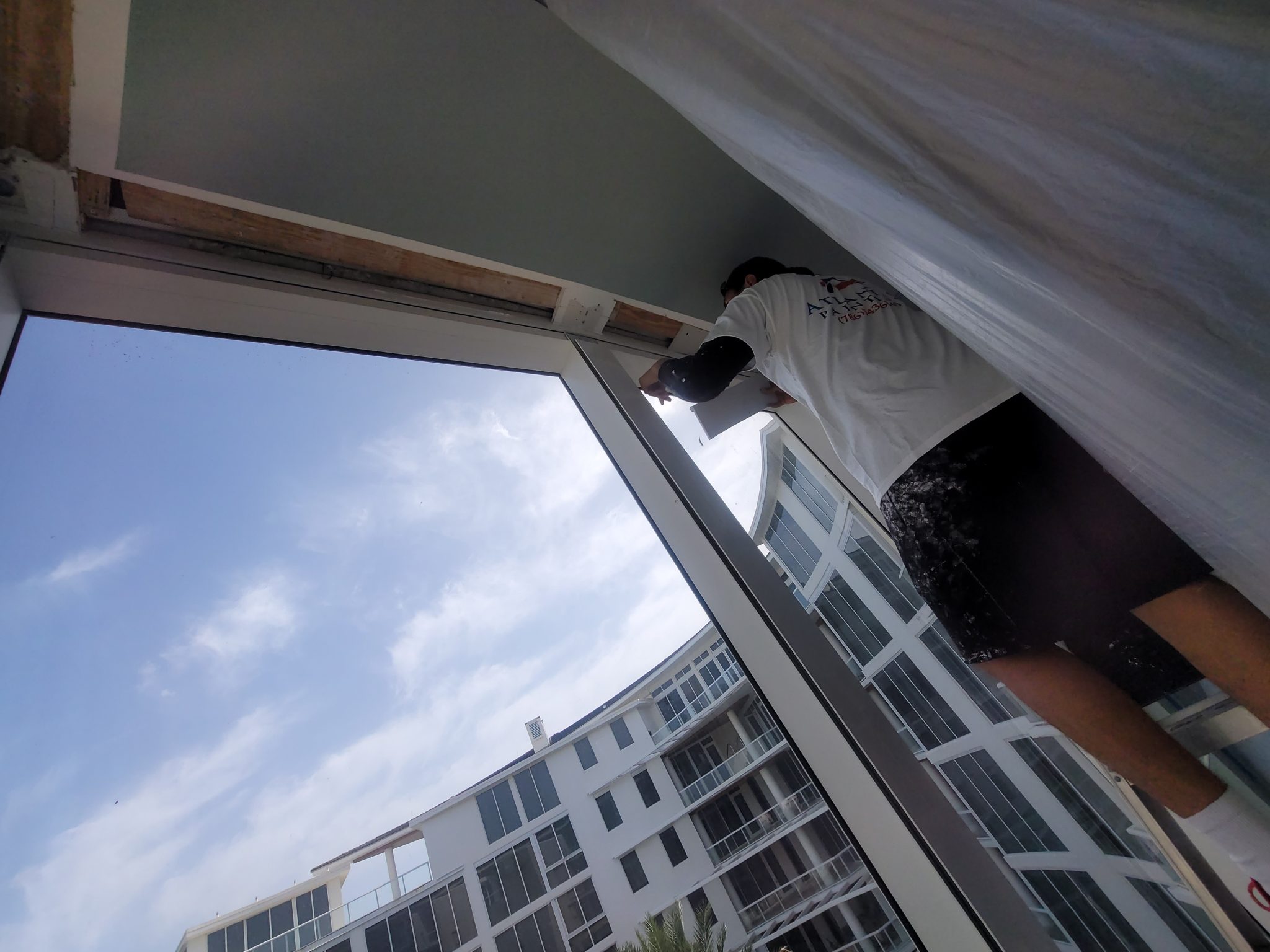 Learn more about all of our Services